After visiting the Jung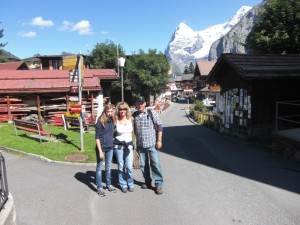 frau region in 2009, we were so impressed that we had to come back. This region offers so many opportunities and excursions, that we decided to spend another 5 days exploring it. Luckily we hit a window of perfect weather on the first three days, enabling us to go up on the highest trams and trains with good views of the impressive landscape.
On the first day, after driving 4 hours from Bruchsal to the hotel in Lauterbrunnen, we got on the tram up to the Gruetschalp. From there we hiked a moderate incline over to Muerren, which is a small village perched on the cliff 1000m above the Lauterbrunnen valley. Muerren is not accessible by road and offers an impressive view of the Eiger, Moench and Jungfrau. From there we took the Schilthorn tram up to the Piz Gloria, which is a revolving restaurant famous for being a film location for a James Bond film.
The second day got off to an early start as we jumped on the train towards the Top of Europe. The train winds up the east side of the Lauterbrunnen valley, making an elevation climb of about 1300m as it goes to the Kleine Scheidegg station via the village of Wengen. From Kleine Scheidegg, where the train line from Grindelwald merges, the tracks lead up and into the Eiger. After travelling directly through the mountain, making two stops along the way (one with a view out of the north face, and the other out of the south face), the train finally reaches it's highest point at the Jungfraujoch (Top of Europe). This snowy saddle between the Moench and Jungfrau peaks offers numerous tourist attractions, as well as an ice-labyrinth, sledding and snowboarding on the glacier, and a zip-line. It's definately worth the trip, but requires good weather.
On day three we took a ride on the historic cogwheel railway to the Schynige Platte. This area is located on the ridge between the Brienzer lake and the Berner Oberland, and offers spectacular views in both directions. We took a nice hike by sunny weather and got some great pictures on the way. Later in the afternoon we took the train to Interlaken and rode yet another historical cablecar up to the Harder Kulm. The fourth day was a bit cloudy, so we did some shopping in Grindelwald and later went back to Lauterbrunnen via the Maennlichen tram and Wengen.
Our trip back to Bruchsal led us through Schaffhausen, where we visited the Rheinfalls.
Tags: switzerland, vacation