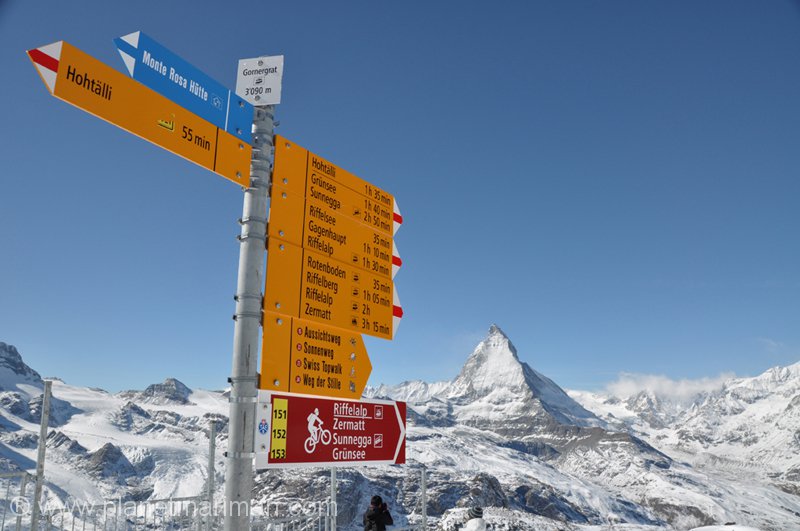 …we just couldn't help it..Switzerland called us again and we answered (for the third time in three years 😉 After finding a good deal on the net, we booked three nights at the Best Western Alpine Resort. Good prices for Zermatt terms and the room and food was good as well. We were also about 200 meters from the train station and the Gornergratbahn. We dediced to travel to Zermatt by rail, and although we had a one-hour delay, it was just as fast as traveling by car (approx. 6h) and if you add up the costs, just as cheap too.
We arrived on Friday afternoon and walked around town to get acquainted; light snow started falling, great. The next morning we awoke to grey skies, low visibility and light snowfall. This did not stop us from having a nice hike through the Aroleitwald to Zum See and Blatten, before hiking back down to town. We wanted to explore the Gornergorge but since it was closed due to snowfall, we spent the afternoon in the wellness area back at the hotel. Sunday morning was also cloudy but with chances of sun, so we got going early and went to the Sunegga tram. The tram goes up more than 600m at a vertical slant through the mountain and comes out at 2288m. We came out of the tunnel to bright sunshine and big fluffy clouds still shrouding the Matterhorn. We hiked down to a small lake and just when we found a good photo location, the clouds lifted…perfect timing. After an hour of hiking and great views, we went back down the tram and walked over to the Gornergrat station. This train took us on a winding track up to the Gornergrat at over 3100m. By this time there were almost no clouds and perfect visibility to all of the twenty-odd 4000m peaks which can be seen from there. We had some lunch and took some great shots of this breathtaking panorama before heading back down to Zermatt. Once back in town we decided to go back up to the Gornergorge, an were lucky to get in before closing. On the way back to the hotel we found a beer garden with a great view of the Matterhorn and witnessed an impressive sundown while having a cold one.
All in all, a great and unforgettable trip. Take a look at the "travels" page for the pics….